LONG ISLAND'S BEER REVOLUTION
Over the past 20 years, Long Island's beer scene has emerged as one of the most vibrant in America, with award-winning breweries, top-notch brewpubs, beer bars and gastropubs, an active homebrewing community and popular beer festivals. This beer revolution followed a long period where local breweries had closed and great beer was not widely available.
Commercial brewing on Long Island dates back to 1874, when William Becker opened the Hicksville Brewery at Broadway and 4th Street. After operating for over 30 years, the brewery closed in 1905. In 1893, John Feller started brewing and bottling beer in the newly-named village of Lindenhurst, formerly known as Breslau. Feller ran his brewery until 1907, after which it changed hands several times until being purchased in 1914 by a German immigrant from Brooklyn, Otto Eichhammer. The Eichhammer Brewery closed after the passage of Prohibition in 1920, and the site is now the home of St. John's Lutheran Church.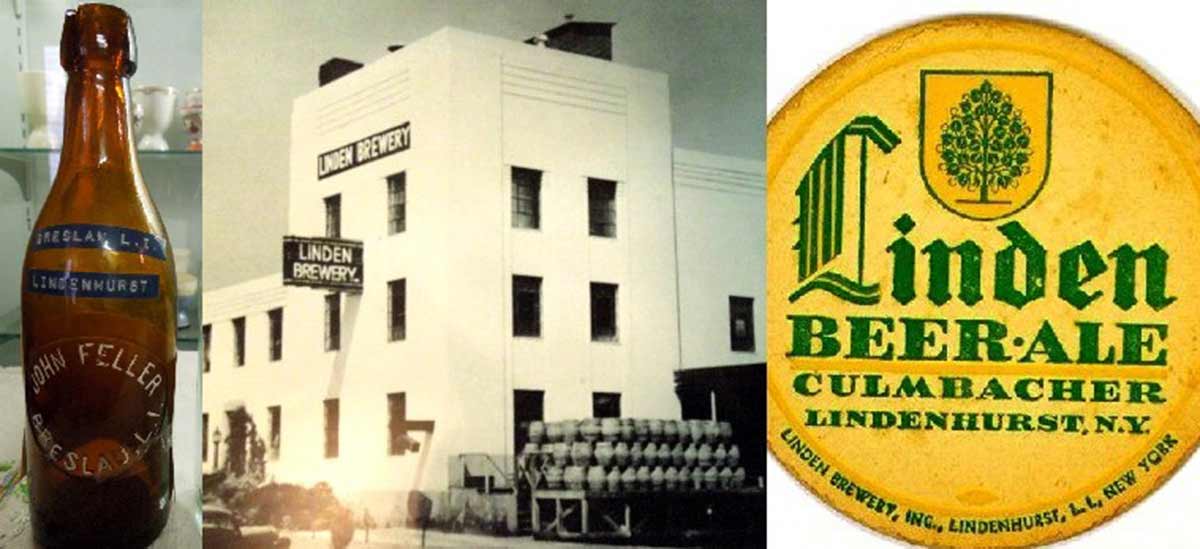 Following the repeal of Prohibition in 1933, Lindenhurst again became home to a brewery with the opening in 1934 of the new Linden Brewery at 80/90 Montauk Highway (now 80 E. Montauk Highway). At its peak, Linden Brewery produced 60,000 barrels per year and was known for making a variety of high-quality beers, including lager, ale, porter, culmbacher (dark lager) and seasonal bock. Because of financial pressures brought on by the Great Depression, the brewery decided not to install bottling facilities. This put Linden Brewery at a competitive disadvantage to larger breweries in Manhattan and Brooklyn, and it closed in 1948. The main brewery building is still in use today by a commercial printing company.
It took 40 years for successful breweries to open again on Long Island, but when they did beer drinkers were ready to embrace great beer. The movement began in 1996 with the founding of two brewpubs that continue to thrive today: Patchogue's BrickHouse Brewery and Southampton Publick House. They were followed in 1998 by a new brewery in Patchogue, Blue Point Brewing, which quickly developed a strong following for its flagship Toasted Lager. The buzz about great beer was spread by pioneering beer bars like Croxley Ales, which in 1997 became the first bar on Long Island to have 60 taps. Homebrewing also became popular on Long Island and the first major homebrew club, Brewer's East End Revival (B.E.E.R.) was founded in 1996 and held its first competition.

Long Island's beer revolution exploded in 2007 with the first major beer festivals produced by Starfish Junction at the Nassau Coliseum and on the North Fork. Soon new breweries began popping up, including Long Ireland Beer Company in 2008, Greenport Harbor Brewing in 2009, and Great South Bay Brewing and Barrier Brewing in 2010. Today there are more than 60 craft breweries spread across Long Island, with more than 45 of those breweries having taprooms to visit and enjoy freshly brewed beer. It is truly a great time to be a beer lover on Long Island. LIBeerGuide is dedicated to helping you find and enjoy great beer whether it is outside your home at breweries, beer bars or gastropubs, or at home after picking up a growler at a beer store or homebrewing your latest batch. Enjoy!