LONG ISLAND CRAFT BREWERIES
Just 15 years ago, Long Island was home to one craft brewery and four brewpubs. Today, there are 60 craft breweries and brewpubs with over 50 taprooms stretching from Glen Cove to Montauk. Here are some tips on how to visit these breweries to learn more about the brewing process and enjoy fresh, locally brewed beer.
DO A TASTING, TAKE BEER HOME
Visiting the taproom of a brewery is the best way to try the full lineup of beers and taste new and seasonal beers. Order a flight of several small glasses (usuallly four ounces), or ask for a sample and have a pint. Also don't forget to take home a crowler, growler or cans of your favorite beer to enjoy at home.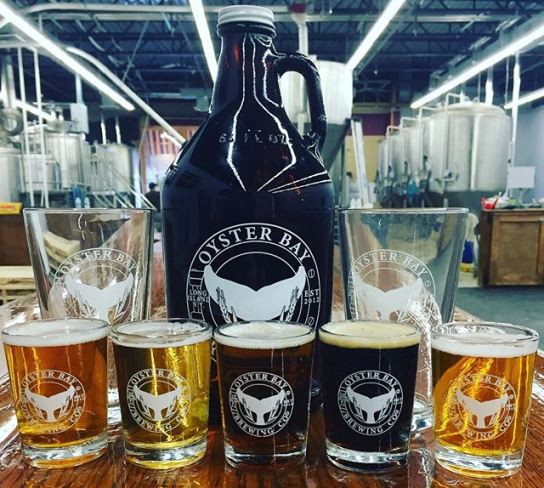 ENJOY FOOD AND MUSIC
Several LI craft breweries have restaurants on site, including BrickHouse Brewery and Blue Point Brewpub in Patchogue, Greenport Harbor Brewing in Peconic, and Peconic County Brewing in Riverhead.
Many LI breweries partner with food trucks to provide visitors with food that pairs well with beer. Great South Bay and Brewers Collective in Bay Shore, Long Ireland Beer in Riverhead, Spider Bite Brewing in Holbrook, and South Shore Craft Brewery and Barrier Brewing in Oceanside are just a few of the breweries that have food trucks parked outside so visitors can bring food into the tap room.
Breweries also regularly feature live music in their taprooms or in outdoor areas during good weather.
READ OUR BREWERY PROFILES
Find out more about Long Island craft breweries before you visit. LIBeerGuide publisher Bernie Kilkelly is a regular contributor to the Long Island Press and below are links to his brewery profiles. Enjoy!
1940's Brewing Co., Holbrook (Oct. 2020)
27A Brewing Company, Lindenhurst (March 2021)
Barnshed Brewing, Hicksville (Oct. 2019)
Barrier Brewing, Oceanside (March 2019)
Bellport Brewing, Bellport (Dec. 2020)
Blind Bat Brewery, Centerport (Nov. 2019)
Blue Point Brewing, Patchogue (April 2021)
Brewers Collective Beer Co., Bay Shore (Dec. 2019)
BrewSA Brewing, Freeport (Nov. 2018)
Bright Eye Beer Co., Long Beach (Feb. 2020)
Garvies Point Craft Brewery, Glen Cove (Sept. 2018)
Ghost Brewing Co., Bay Shore (Dec. 2019)
Great South Bay Brewery, Bay Shore (July 2019)
Harbor Head Brewing Co., Northport (Feb. 2019)
HopWin's Brewery, Bay Shore (May 2020)
Jamesport Farm Brewery, Jamesport (Sept. 2019)
Long Beach Brewing Company, Oceanside (June 2020)
Long Ireland Beer Co., Riverhead (March 2018)
Long Island Farm Brewery, Manorville (July 2021)
Montauk Brewing Co., Montauk (Aug. 2019)
Moriches Field Brewing, Center Moriches (Nov. 2020)
Motion Craft Brewed, Massapequa Park (March 2020)
Noble Savage Brewing Co., Glen Cove (Dec. 2020)
Old Tappan Brewing Co., Bayville (July 2020)
Oyster Bay Brewing Co., Oyster Bay (April 2018)
Peconic County Brewing, Riverhead (Jan. 2021)
Riverhead Ciderhouse, Calverton (Sept. 2020)
Saint James Brewery, Holbrook and St. James (Oct. 2017)
Sand City Brewing Co., Northport (Feb. 2018)
Sand City South, Lindenhurst (June 2021)
Secatogue Brewing Co., West Isliip (April 2020)
Six Harbors Brewing Co., Huntington (April 2019)
Small Craft Brewing Co., Amityville (June 2019)
South Shore Craft Brewery, Oceanside (Nov. 2019)
Spider Bite Beer Co., Holbrook (May 2020)
Tradewinds Brewing Co., Riverhead (Aug. 2020)
Twin Fork Beer Co., Riverhead (April 2021)