LONG ISLAND BEER DESTINATIONS
12 towns on Long Island have developed into great beer destinations, where you can visit a brewery or brewpub, enjoy locally made beers at a beer bar and then dine at a gastropub, all in one day or just half a day. You can plan a visit to these beer hubs yourself by entering the town's Zip Code in the search box above, or check out LIBeerGuide's Brewery Tours and Transportation listings to arrange transportation.
BAY SHORE (11706)
Breweries: Great South Bay Brewing, Destination Unknown Brewing Co.
Gastropubs: Corks and Taps, Tullulah's
Beer Bars: TJ Finleys Public House, Cortland, Changing Times American Sports Bar
FARMINGDALE (11735)
Breweries: Lithology Brewing, Barrage Brewing
Brewpub/Gastropub: Black Forest Brew Haus, That Meetball Place
Beer Bars: Croxley's Farmingdale, Library Cafe, Republic Pub
GLEN COVE (11542)
Brewery: Garvies Point
Gastropubs: Crispy Pig, Glen Cove; Still Partners and Oak Room Tavern, Sea Cliff
HOLBROOK (11741)
Breweries: 1940s Brewing Co., Spider Bite Beer Co.
Gastropub: Karvers Grill
Beer Bar: Irish Times Pub
MONTAUK (11954)

1) Montauk Brewing Co. -- Montauk Brewing was established in 2012 by three lifelong friends, Eric Moss, Vaughan Cutillo and Joe Sullivan, who focus on their individual areas of expertise -- Eric as brewmaster, Vaughan as head of marketing and Joe as head of business development. Montauk Brewing's initial growth came from the smart idea of contract brewing their flagship Summer Ale and Driftwood Ale to be distributed in cans, making them great beers to bring to the beach. While these beers and the popular Session IPA continue to be brewed and canned at Wachusett Brewing in Massachusetts, Montauk Brewing opened their own brewery in 2015 in a building that formerly housed Montauk Woodwork, owned by Vaughan's father. The new brewery's 15-bbl system allowed Eric to produce a wide range of beers and he has experimented with making beers using local ingredients including a Rye Pale Ale made with hops from Mattituck. The brewery's tasting room, which doubles as an art gallery showing local artists, is open during the off season from Thursday to Monday.

2) Shagwong Tavern -- the historic Shagwong in the heart of town dates back over 80 years and was well known for its no frills bar and fresh seafood. New owners took over in 2015 and have given the tavern a fresh look and a renovated kitchen that is winning high marks for prime rib, burgers and of course fresh seafood. Shagwong has 12 beers on tap with one of Montauk Brewing's beers always on.

3) Montauk Beer & Soda -- Montauk Beer is the best place in town to stock up on craft beer. The store does not have a growler station but the craft beer selection is very good, with of course Montauk Brewing cans available.

4) Zum Schneider Montauk -- The Montauk outpost of the popular East Village German restaurant opened in 2012 and is a popular spot during peak season for authentic German food and beer. 14 German beers are on tap and the restaurant's owner, Sylvester Schneider, is often busy singing with his oompah band or playing with the restaurant's soccer team. Zum Schneider Montauk will reopen for the season on St. Patrick's Parade weekend.

5) The Point Bar & Grill -- The Point is a popular sports bar with hearty pub grub and is also well known for its late night dance parties. Happy Hour from 4-7 pm on weekdays features 1/2 price beers and 1/2 off select apps.

6) Saltbox Restaurant & Bar -- for a more low key dining experience, check out The Saltbox Restaurant which is owned by the same folks as the Shagwong. Taking over the spot of a traditional Irish pub, O'Murphy's (which moved to a new location at Montauk Harbor), the Saltbox was transformed into an upscale gastropub with a menu focusing on locally sourced ingredients. There are 6 beers on tap including Montauk Brewing.

For visitors coming from New York City and other points west, Montauk's beer destinations are about a mile walking distance from the LIRR Montauk station, the last stop on the Montauk line.
NORTHPORT (11768)
Brewery: Sand City Brewing Co.
Gastropub: Rockin' Fish, Lark Pub & Grub
Beer Bars/Restaurants: Napper Tandy's, Pumpernickels
OCEANSIDE (11572)
Brewery: Barrier Brewing, Oceanside
Gastropubs: EAT Gastropub, Oceanside
Beer Bar: Althouse, East Rockaway
OYSTER BAY (11771)

Oyster Bay Brewing Co. -- co-founders Gabe Haim and Ryan Schlotter caught the homebrewing bug in the late 2000s and in 2012 decided to turn their passion for beer into a business. They started the brewery with a 3-bbl system in a small building on South Street and soon developed a fervent following for their beers, including Honey Ale made with local honey from Bee Haven in Locust Valley. Distribution expanded across Long Island and to Citi Field and the Nassau Coliseum, for which the brewery made the popular Barn Rocker Ale (now served at Barclays Center). With demand growing, in February 2016 they moved around the corner to a larger location on Audrey Street, next to Canterbury Ales. The 6,000 square foot space houses a 15-bbl system and enough room for canning equipment and a much larger tasting room with 24 taps. Oyster Bay Brewing's tasting room is open 7 days a week and visitors are welcome to bring in or have food delivered.

Canterbury Ales Oyster Bar & Grill -- Canterbury Ales opened in 1981 under the same ownership as the now closed, sorely missed Canterbury Ales in Huntington. In 1985, Mark Fox took over sole ownership in Oyster Bay and focused on providing an extensive beer selection and the freshest oysters and seafood. Today, Canterbury Ales Oyster Bar & Grill has 16 beers on tap and its famous "99 bottles of beer" selection, with a strong focus on craft beers from Long Island and across New York State. The oysters and shellfish are always fresh and other seafood specialties include steamers, mussel pots, clam chowder and delicious fish and chips. The handsomely decorated restaurant displays an extensive collection of Teddy Roosevelt and historic Oyster Bay memorabilia. A great time to visit is Happy Hour on Monday to Friday from 4-7 pm, with $2 off all draft brews and discounted "Happetizers."

Spinnakers -- there are many restaurants to enjoy in Oyster Bay, including longtime favorites like The Homestead, Coach Grill & Tavern and the diner-style Taby's Burger House. A newcomer, Spinnakers, opened last August in the South Street location last occupied by Jack Halyards and previously by Fiddleheads. Spinnakers is worth a visit for the lively bar scene, including Oyster Bay Brewing beers on tap, and an interesting small plates menu featuring grilled oysters and octopus, lobster mac and cheese, crispy calamari and a variety of tasty salads.

For visitors coming from New York City, Oyster Bay's beer destinations are within easy walking distance of the LIRR Oyster Bar station, the last stop on the Oyster Bay line.
PATCHOGUE (11772)
Brewery: Blue Point Brewing
Brewpub: BrickHouse Brewery
Gastropubs: PeraBell Food Bar, Public House 49
Beer Bars: Bobbique, Hoptron Brewtique
PORT JEFFERSON (11777)
Breweries: Port Jeff Brewing, Po' Boy Brewery
Gastropubs: Brewology, Old Fields
Beer Bars: L.I Pour House, Portside Bar & Grill
RIVERHEAD (11901)
Over the past 10 years, Riverhead has emerged as a vital hub in the LI craft beer scene. Riverhead is currently home to three craft breweries with tasting rooms, with two more in development, and has a growing number of gastropubs with farm to table menus taking advantage of the proximity to North Fork farms. Downtown Riverhead has been revitalized in recent years with the restoration of the historic Suffolk Theater and new walkways along the downtown waterfront. Riverhead is also home to the historic Polish Town neighborhood, anchored by St. Isidore's Church and the Riverhead Polish Hall on Pulaski Street, home to the annual Polish Town Civic Association Fair that draws thousands of festival goers in mid-August to enjoy pierogies and polka music.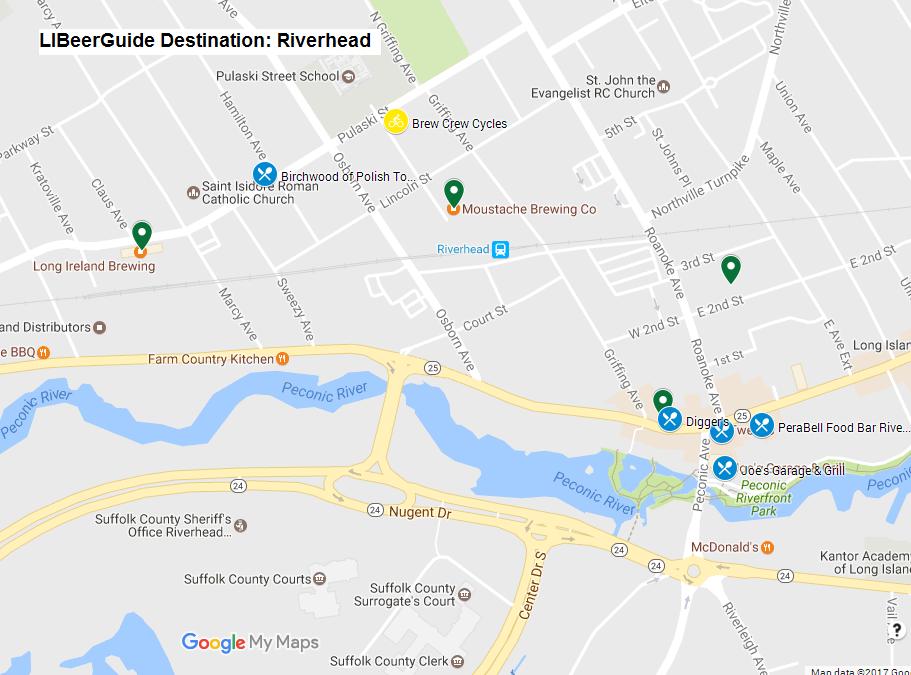 Breweries: Long Ireland Beer Co. was founded in 2009 by longtime friends Dan Burke and Greg Martin, who started out contract brewing their flagship Celtic Ale and then opened their Riverhead brewery and tasting room in 2011 with a 15-barrel brewing system. Last year Long Ireland moved most of the production of Celtic Ale and its popular Summer Ale and IPA from bottles to cans, which helped to increase production to keep up with increased demand. This brewery, proudly named after the Irish heritage of its founders, is nonetheless located in Riverhead's Polish Town and hosts many cool events throughout the year, including the Pintwood Derby coming up on July 22 and the Halfway to St. Patrick's Party in mid-September. Crooked Ladder Brewing opened in fall 2013 in downtown Riverhead on West Main Street next to Digger's Pub. Originally founded by brothers David and Steve Wirth and brewmaster Duffy Griffiths (formerly brewmaster at John Harvard's in Lake Grove), Crooked Ladder has a 7-barrel brewing system and has added more fermenters to keep up with demand. After Duffy Griffiths left the brewery to join Greenport Harbor Brewing, assistant brewer Stevie Czelatka took over as head brewer and now oversees brewing of mainstay brews Gypsy Red and Downtown Red along with many delicious seasonals. Moustache Brewing Co. opened in April 2014 following a successful KickStarter campaign (proudly supported by LIBeerGuide) launched by co-founders, co-brewers and spouses Lauri and Matt Spitz. They opened in an industrial space on Hallett Street, across from Polish Park, with a 2-barrel brewing system and quickly established a loyal following for their great beers and fun events. Like the other Riverhead breweries, Moustache has expanded production and added a canning line to keep up with demand.
All of the Riverhead breweries have made beers using hops from local growers including Condzella Farms in Wading River, L.I. Hops in Riverhead and Weskofske Farms in Peconic. There are two other craft breweries in Riverhead with plans to open tasting rooms: Long Beard Brewing is renovating a former firehouse on Second Street and Twin Forks Brewing has submitted plans for a brewery and tasting room in an industrial area on Raynor Avenue.
Gastropubs and Beer Bars: There are many good places in Riverhead to enjoy locally sourced food paired with great LI beers. Tweeds Restaurant & Buffalo Bar is located in the historic J.J. Sullivan's Hotel that dates back to 1896. Tweeds is known for serving bison steaks and burgers under the watchful eyes of the trophy head of the last bison hunted by Teddy Roosevelt in the Dakota Badlands. Another Riverhead institution is The Birchwood of Polish Town, which has offered hearty Polish food for over 80 years. Downtown on West Main Street is a longtime local favorite, Digger's Ales & Eats, which first opened as Digger O'Dells in 1993 and was relaunched in 2005 by owners Cheri and Steve Wirth. Digger's offers hearty pub food and 16 beers on tap, including brews from next door neighbor Crooked Ladder. Two more recent additions to the downtown foodie scene are Joe's Garage & Grill, which opened in 2014 and serves delicious BBQ and local brews in a unique car-themed setting, and Perabell Food Bar, the second location for the popular gastropub in Patchogue, which opened in 2015.
Brewery Tours: For visitors coming on the LIRR, the Riverhead station (on the Ronkonkoma branch) is located a stone's throw from Moustache Brewing, and Crooked Ladder on Main Street and Long Ireland Beer Co. in Polish Town are all within a mile walking distance. But for a fun way to tour the breweries and burn off some calories, check out Brew Crew Cycles located in Polish Town. Now in its third year, Brew Crew Cycles offers a 2 1/2 hour tour of two of the three breweries plus a stop at The Birchwood of Polish Town, all reached by pedaling on a 14 person bicycle. Brew Crew cyclers receive discounted prices on beers and snacks. Tours are currently offered on Saturdays and Sundays with weekday tours coming later this summer and special events throughout the summer and fall.
Another convenient way to experience the Riverhead beer scene is with Tapped Enterprises/LI Beer Bus, which offers customized bus or van trips to visit the breweries and have lunch at a gastropub.