LIBeerGuide Destinations
NORTHPORT (11768)
Northport is a waterfront town on the North Shore that is becoming as well known for its craft beer scene as for its picturesque views of Cow Harbor.
Breweries -- Northport is home to two craft breweries, Sand City Brewing Co. located downtown on Main Street and Harbor Head Brewing Co. in the Brittania Yachting Center marina a few minutes drive south of downtown.

Sand City Brewing, named in honor of Northport's industrial past and the sand mines ringing the harbor at the turn of the last century, opened its tap room in fall 2015. The brewery quickly built a reputation for brewing some of LI's best IPAs. Brewmaster Kevin Sihler, a founder and co-owner, is a hoppy beer fan and has pushed the envelope by using a wide variety of hops. Sand City also raised its game to a new level with a series of collaboration beers, partnering with breweries from Oceanside, Long Island (Barrier) to as far as Oceanside, CA (Horus Aged Ales). Bill Kiernan, also a founder and co-owner, said "Collaborations are a lot of fun and they are really what the carft brewing industry is all about." While the IPAs have received the most attention, Sand City also brews popular Belgian style beers and its delicious Southdown Breakfast Stout, brewed with locally roasted Brazilian coffee beans from Southdown Coffee in Huntington. Sand City's tap room has become a fixture on Main Street near the John Engeman Theater and is open every day.

For more info, check out LIBeerGuide's profile of Sand City published in the Long Island Press in February 2018.

Harbor Head Brewing was founded by Sosh Andriano, the owner of the Whale's Tale restaurant located just steps away in the same Brittania marina. He recognized the growing popularity of local craft beers and thought a brewery would be complementary to his restaurant. He recruited a few partners and in 2016 started building a five-barrel brewhouse and tasting room in a 1,100-square-foot former bait and tackle shop. Harbor Head's tap room opened in 2018, along with a small beer garden that was a popular hangout in the summer and fall months. William Melvin, who took over as head brewer in June 2018, typically has eight beers on tap which vary according to the season. He tries to always have a pale ale and an IPA in the rotation, along with a lighter-tasting beer and a dark beer style. Among the IPAs is NoPoCo, named after the Northport Coast, which is a double hopped New England style hazy IPA brewed with Citra and dry hopped El Dorado hops. During the winter, Harbor Head's tasting room is open Thursday to Sunday.

For more info, check out LIBeerGuide's profile of Harbor Head published in the Long Island Press this month.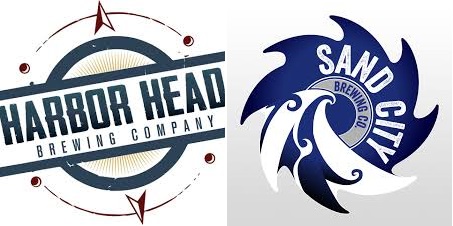 Gastropubs, Beer Bars and Irish Pubs -- to take a day trip to Northport without driving, your best bet is to take the LIRR to the Northport station on the Port Jefferson line. The station is located in East Northport, but Northport's downtown Main Street is less than a 10 minute taxi, Lyft or Uber away.

While in East Northport, check out one of the North Shore's best beer bars, The Lark Pub & Grub. Since opening in 2009, The Lark has become known for its ever-changing craft beer offerings with 26 beers on tap and many more in bottles and cans. The variety of the beer is matched by the inventive take on pub grub, with apps like Thanksgiving Egg Rolls and Fried Mac and Pepper Jack, along with delicious burgers, sandwiches and flatbread pizzas.

Also in East Northport near the LIRR station is The Crossroads Cafe, a cozy American bistro specializing in fresh seafood, Owner and Chef Rob Haddow has run Crossroads for over 25 years and in 2012 opened a sister restaurant, Rockin' Fish, on Northport's downtown Main Street. Rockin' Fish also specializes in fresh seafood along with sandwiches and burgers and enhances the dining experience with 16 craft beers on tap.

One of the most well-known establishments in downtown Northport is Gunther's Tap Room, which was a favorite watering hole of the Beat writer Jack Kerouac when he lived in Northport in the late 1950s and early 1960s. Gunther's suffered major damage in a fire in May 2017 but reopened last fall after a loving restoration by co-owners Brad Vassallo and Eddie McGrath, who bought Gunthers after its founder Pete Gunther died in 2016. The bar features live music on the weekends and local beers on tap, including Harbor Head and Sand City.

Just east of downtown Northport are three very different establishments that all offer great food and beer. Seven Quarts Tavern is a gastropub founded in 2015 with a menu featuring new American cuisine including small plates that can be enjoyed with the 11 craft beers on tap. Seven Quarts holds beer dinners and other events, and is holding a special 5 course brunch, handcrafted by Chef Justin Birtola, featuring Blue Point beers on Sunday, March 24.. Pumpernickels has been a Northport favorite since 1973 serving traditional German food and beer. Napper Tandy's Irish Pub is one of three Napper Tandy's on LI, with sister pubs in Smithtown and Bay Shore. The Northport pub has 20 beers on tap and pours a perfect pint of Guinness to accompany Irish pub staples like shepherd's pie and fish and chips along with burgers, sandwiches and wings.

Homebrew Shop - Karp's Homebrew Shop in East Northport is a local institution, located inside a family-owned hardware store founded in 1934. The third generation of the family currently runs the store and is committed to serving the homebrewing community, stocking equipment, ingredients, beer kits, books and more.

Beer Store -- East Northport Beverage has an excellent craft beer selection and a growler station with six taps.

Enjoy your visit to Northport and for more LI Beer Destinations please click here.