LIBeerGuide Destinations
19th Hole Guide to Bethpage Black (Farmingdale 11735, Bethpage 11714)
The PGA Championship is being held at Bethpage Black this weekend and a major championship deserves major festivities, which Long Island is ready to deliver. Here are LIBeerGuide's suggestions for enjoying great beer after seeing the world's greatest golfers play one of the world's toughest golf courses.
Breweries and Brewpubs
Just a short drive from Bethpage Black, there are three great breweries and an authentic German brewpub with German beer and food.

Lithology Brewing Company on Main Street in Farmingdale is the closest brewery to the course and will have special hours during the Championship, opening from noon to 10 pm on Thursday and noon - 11 pm on Friday. Lithology will have a special PGA Happy Hour from noon - 5 pm each day of the Championship, with $2 off flights and $1 off pints.

Black Forest Brew Haus, located just east of Route 110, is Long Island's only brewery making authentic German beers using traditional recipes and ingredients. The brewpub also serves delicious German food including wursts and schnitzel.

Barrage Brewing Company is in East Farmingdale just south of Republic Airport. The brewery is known for its wide range of beer styles and inventive names including the Seinfeld-inspired Yada Yada Yada Brown Ale. Barrage will be open until 8 pm on Thursday, Friday and Saturday and from 1-5 pm on Sunday to watch the final round.

Barnshed Brewing is located west of the golf course on the border of Bethpage abd Hicksville. PGA attendees can show their tickets at Barnshed and get $1 off flights. Barnshed in open until 10 pm on Thursday and Friday and 8 pm on Saturday. On Sunday, Cheezy Pete's food truck will be on site for golf fans watching the final round at the brewery.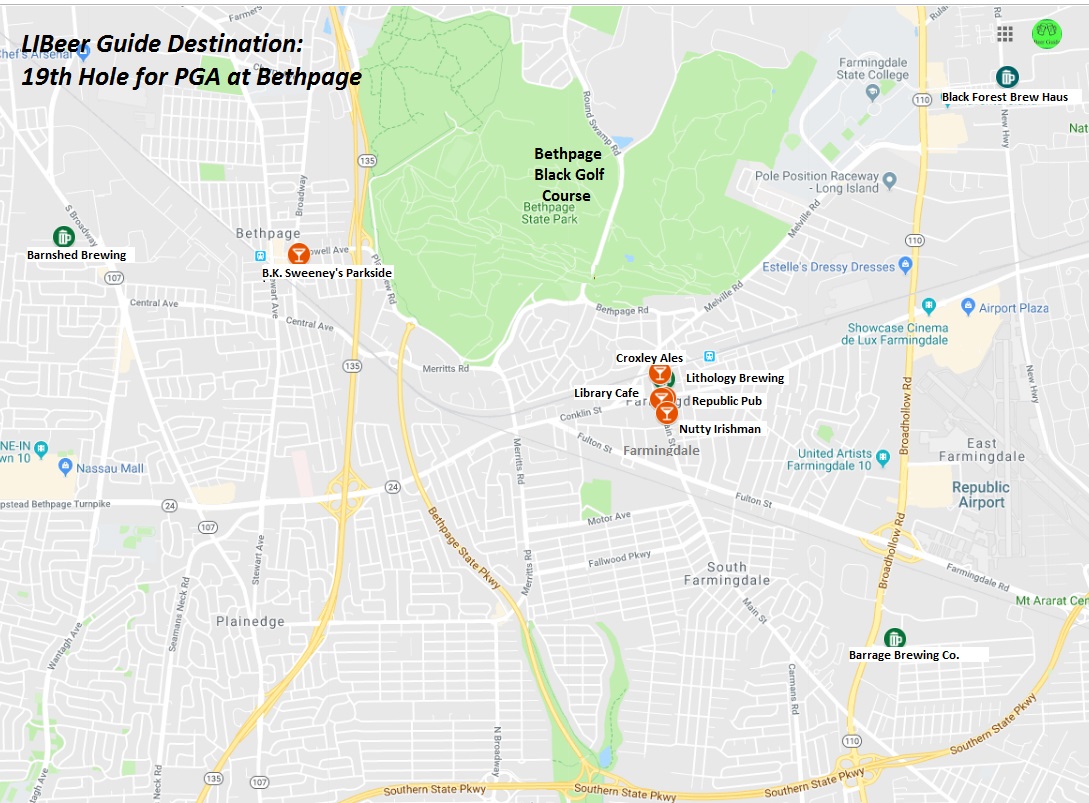 Beer Bars
Farmindale's Main Street will be PGA party central during the Championship with its close proximity to the course and abundant selection of pubs and restaurants. LIBeerGuide's suggestions for enjoying great beer are:
Croxley Ales has been a fixture at the northen end of Main Street next to the train crossing since 2008, with 68 beers on tap and a solid pub grub menu including its well-known wings.

Library Cafe, part of the Lessings family of restaurants, is a sophisticated restaurant and bar in a historic building that housed the public library, with the bar artfully incorporating the former library shelves. Library Cafe has a good craft beer selection including Lessing's own house ales.
The Republic Pub, located just a few doors down from Lithology Brewing's tap room, is a comfortable, quiet pub with an excellent craft beer selection with 19 taps and a menu with hearty pub grub including great burgers.
The Nutty Irishman is a large, lively pub with 22 taps and tasty pub grub. Live music and DJ dancing starts at 8 pm on Friday and Saturday nights.
Another lively pub located west of the course in the village of Bethpage is B.K. Sweeney's Parkside Tavern. Sweeney's is one of the sponsrs of a Golf Street Fair on Friday, May 17 from 6-10 pm, with a chipping contest, putting contest and golf simulator.